In this issue…
2017 Annual Pursuit of Justice Awards
Teen Dating Violence Brochure
CWLC's Beach Cities Legal Housing Clinics
CWLC Releases: Lactation 101 Report
Join Us: LA Sparks #WeAreWomen game on August 27th 
---



The 2017 Annual Pursuit of Justice Awards Luncheon honoring The Actors' Gang Prison Project, State Senator Connie M. Leyva and the Los Angeles Sparks
The California Women's Law Center held its annual Abby J. Leibman Pursuit of Justice Awards ceremony and lunch on Tuesday, May 16, 2017 at the Millennium Biltmore Hotel in downtown Los Angeles. The Actors' Gang Prison Project, State Senator Connie M. Leyva and the Los Angeles Sparks were honored, and Robyn Ritter Simon served as our Mistress of Ceremonies.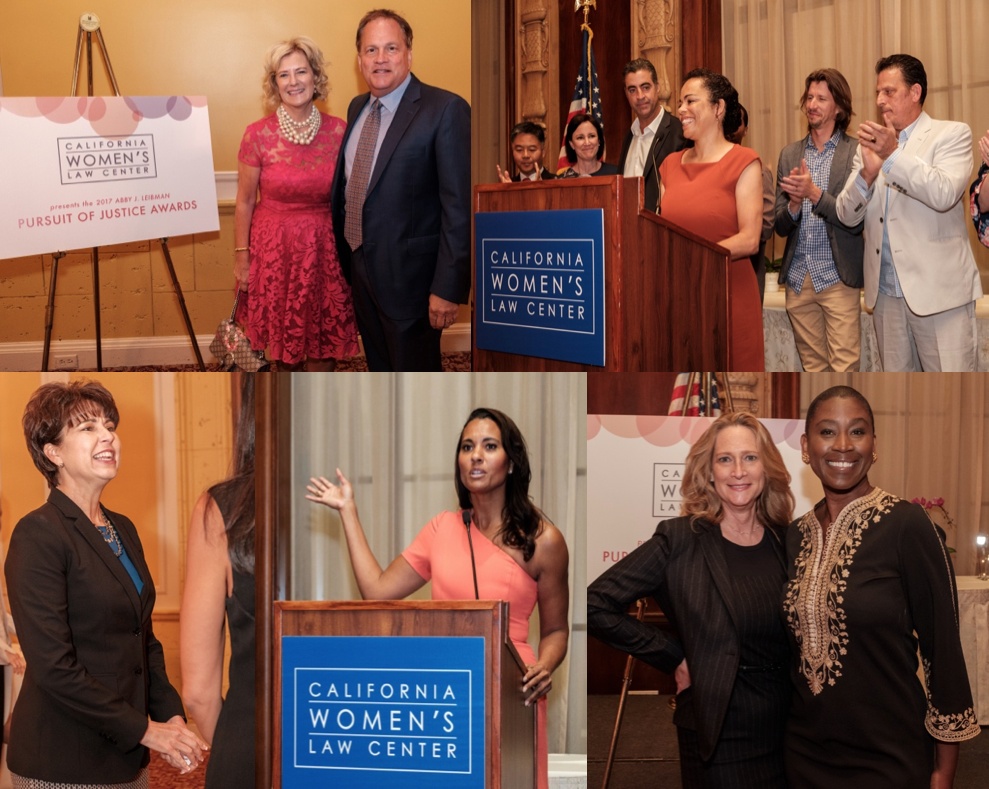 The California Women's Law Center is committed to strengthening our communities by empowering women, girls and families throughout the state and this year we recognized a group of dynamic leaders for their dedication to improving the lives of others.
Now in eight men's and four women's correctional facilities across the state, The Actors' Gang Prison Project was created to address the high recidivism and mass incarceration rates in California and works to prepare participants for life beyond bars. State Senator Connie M. Leyva is a champion for women's rights and a committed advocate for working families and veterans. The Los Angeles Sparks break down barriers, empower and enrich girls and women's lives through sport and also support community programs to benefit young people in our community.
A special thank you to our sponsors, donors and attendees for supporting CWLC's mission pursuing justice for women and girls. Together, we are making the lives of others safer, healthier and more just.
Click HERE to see photos from the event!
---
Teen Dating Violence Webinar and Release of Know Your Rights Brochure
On July 27, CWLC's Amy Poyer conducted a webinar training titled "Teen Dating Violence: Detect, Address, Prevent", co-sponsored by Legal Aid Association of California (LAAC). The webinar discussed what teen dating violence is, how to recognize it, its negative effects on the lives of women and girls, and what legal authority exists at the state and federal level to address it.
Following the webinar, CWLC released our Teen Dating Violence: Know Your Rights brochure. This brochure provides information relating to teen dating violence, its prevalence and the forms it can take, the damage it causes, and the legal remedies and responsibilities that exist to tackle it. To access the brochure, click here.
---
Beach Cities Legal Housing Clinic
CWLC co-hosted our first free legal housing clinic on Saturday, June 3 from 10:00 AM – 12:00 PM at Venice Community Housing (VCH) in Venice. CWLC is proud to partner with VCH and housing rights attorneys to provide a forum where beach city residents can receive free legal housing assistance and learn about their rights as tenants. CWLC will continue to partner with VCH and hold these free clinics on the third Saturday of every month from 10:00 AM to 12:00 PM. If you or someone you know is addressing housing or tenants' rights issues, please join us at our next clinic on Saturday, August 19.
---
Lactation 101: Lactation Accommodations in Los Angeles County
In June, CWLC and BreastfeedLA released Lactation 101: Lactation Accommodations in Los Angeles County Higher Education. The report updates our 2015 and 2016 work with BreastfeedLA and the ACLU of Southern California which evaluated the accessibility of lactation accommodations for students and employees at 81 Los Angeles County K-12 school districts. Lactation 101 expands work in this area by broadening our coverage to 107 colleges, universities and institutes of higher learning in Los Angeles County. To read this report, please visit our website.
CWLC is very active in our effort to ensure schools are notifying students and school personnel of their rights in this area. In May, CWLC partnered with BreastfeedLA in delivering an in-person training for the Inland Empire Breastfeeding Coalition. The training explored the legal authority protecting pregnant and parenting students in California, identified the criteria for school districts to exemplify that they are supportive of staff and students regarding lactation accommodations, and explained the process of implementing a program and policy at the County of Los Angeles.
---
August 31: Breastfeeding Advocacy 101 Training Day
CWLC is a co-sponsor of Breastfeeding Advocacy 101 Training Day on Thursday, August 31 from 8:00 AM – 4:45 PM at the California Endowment in downtown Los Angeles. The training is designed for those working with and advocating on behalf of breastfeeding mothers. Attendees will learn about the current laws regarding breastfeeding and how to advocate for breastfeeding rights from attorneys and lactation experts. Please join us and register for the free training at bfadvocacy101.eventbrite.com.
---
Gun Violence & Trauma Town Hall Meeting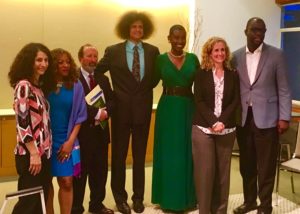 In May, CWLC co-hosted the Gun Violence & Trauma Town Hall Meeting with the University of California, Irvine School of Law. Seven distinguished guest panelists joined UCI Law School professor Michel Goodwin to discuss the impact gun violence has on our communities. Nearly 100 people are killed by gun violence every day across the country. Educating our communities on how to decrease gun violence, getting lawmakers involved in this process, and how Americans respond to this trauma is more important than ever.
---
Equal Means Equal Panel Discussion
Senior Staff Attorney Amy Poyer participated in a panel discussion following a screening of the documentary Equal Means Equal at the Santa Monica Public Library. Directed by Kamala Lopez, the film tackles multiple areas of gender inequality women in the United States face, and focuses on the continued effort to pass the Equal Rights Amendment which would serve as the benchmark to guarantee women constitutional equality.
In a talkback after the movie, Amy discussed legal issues related to equal protection for women under the Constitution and highlighted how the Equal Rights Amendment would, if passed, strengthen the legal standard.  To find out more about the film, click here. To learn more about the Equal Rights Amendment, click here.
---

CWLC Participates in the #ResistMarch

CWLC was proud to be a partner with and participate in the #ResistMarch on June 11. An estimated 30,000 people participated in the march with pride.
This year, the #ResistMarch took the place of the Pride Parade, recognizing that all Americans' rights are under attack. It was a peaceful human rights event that brought many people together to march in unity for equality.
See CWLC's partner video here.
---
Banding Together to End Domestic Violence
CWLC participated in the 5th annual Banding Together to End Domestic Violence event. This attorney battle-of-the-bands fundraiser featured seven bands from different law firms in Los Angeles competing for the Best Lawyer Band in LA award. Betsy Butler was honored to be a guest judge with former Los Angeles Dodger Al Ferrera, Real Housewives of Beverly Hills actor Taylor Armstrong and Create Now Jill Gurr to help raise money benefiting the Family Violence Appellate Project, a California non-profit organization dedicated to helping domestic violence survivors.
---
Join Us August 27: #WeAreWomen Campaign and Game with the Los Angeles Sparks 
The #WeAreWomen campaign kicked off in 2015, selling out the Staples Center for the first time in Los Angeles Sparks franchise history. At this third annual event, the Sparks will recognize women in Los Angeles who have worked to better our community and inspired others to give back.
The Sparks are presenting the Legacy Scholarship award again this year, which is an essay contest for girls in Southern California who were asked to answer: What do you want your legacy to be? The finalists will be recognized at the August 27th game and winners will be awarded a $3,000 scholarship.
CWLC is proud to sponsor this event for the third year in a row. You can purchase tickets to the game or become a #WeAreWomen Ambassador by going to the Los Angeles Sparks website.
#WeAreStrong               #WeAreWomen
---
2017 Summer Interns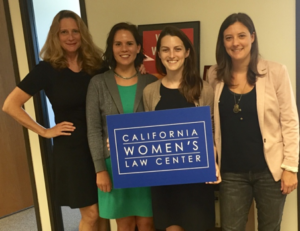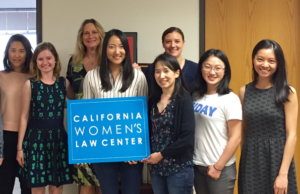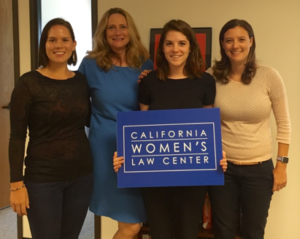 CWLC is grateful to have had rising second year law students Lauren Huennekens (UCLA School of Law) and Stephanie Funk (DukeUniversity School of Law) join us this summer as CWLC interns. They worked on multiple projects, including extensive research about reproductive health care and the rights of rape victims.
We thank Lauren and Stephanie for their hard work and wish them the best of luck in their second year of law school!
Earlier this year, we were also honored to host five outstanding Columbia Law School student interns who spent their Spring Break with CWLC. Our wonderful group of interns (Sunny Kim, Maple Lai, Jess Yoon, Haiyan Tao and Lisa McAnearney) did outstanding work in helping create our teen dating violence brochure as well as researching and drafting a memorandum relating to California's reproductive justice and transparency law.
---
October 14: Handbags of Hope
CWLC is excited to participate again this year in the Handbags of Hope Across America event. On October 14, Handbags of Hope will be collecting new and gently used handbags filled with personal care items which will be distributed to women escaping domestic violence, sexual assault and human trafficking in the Los Angeles area. Women often flee dangerous situations with nothing but the clothes on their back so being given a purse with personal care items can greatly lift the spirit of a woman in need.
If you would like to donate a handbag with toiletries, please drop off items from 11:00 AM – 2:00 PM on October 14th at the Hope In Christ Community Church, 1019 North Harris Ave. Compton, CA 90221, or contact Handbags of Hope at (323) 863-3747.
---
September 8: Dolores Film Screening
Join CWLC for an upcoming screening of the documentary Dolores. The film chronicles the life of Dolores Huerta, a champion of social justice and equality who has dedicated her life to fighting for the rights of workers, immigrants, women and youth. CWLC was proud to honor Ms. Huerta with our Pursuit of Justice award in 2015 for her lifelong activism pursuing equality for women and girls.
Dolores will be opening in Los Angeles on September 8 at the Landmark Nuart Theatre with special guests and Q&A with the filmmaker. Other screenings are taking place around Los Angeles. Go to doloresthemovie.com for additional screenings.
---
Meet our new Board Members
Genie Harrison is the principal of the Genie Harrison Law Firm and focuses on plaintiff's employment, civil rights and wage and hour matters. Ms. Harrison was named by Super Lawyers as one of the Top 10 and Top 100 Southern California Super Lawyers in 2016 and 2017, and has been named one of the Top 50 Women Southern California Super Lawyers numerous years. She has been recognized by Best Lawyers in America for Plaintiff's Employment Litigation, named by the Daily Journal as one of the Top Labor & Employment Lawyers, and as one of the 100 and Top 75 Women Litigators in California. Ms. Harrison is currently the Treasurer of Consumer Attorneys' Association of Los Angeles, and will be its President in 2021. We are pleased to welcome Genie to the CWLC Board.
Kevin Feldman is CEO of the strategy and advisory firm, Feldman Capital LLC, providing services to global asset management clients. Previously, Kevin was the CEO of World Gold Trust Services where he had responsibility for overseeing global investment operations. He has held senior leadership positions at BlackRock, Vanguard and Charles Schwab. Kevin is a Certified Financial Planner and serves as a non-public arbitrator for financial industry matters at FINRA. He completed his undergraduate work at UCLA and received his M.P.A. from Harvard University. We are pleased to welcome Kevin to the CWLC Board.
---
Welcome Erin LaMere
Erin LaMere has joined the California Women's Law Center as our Development Associate. Prior to CWLC, Erin worked for the National Clinic Access Project at the Feminist Majority Foundation in Los Angeles. There, she assisted the Foundation's event coordination and outreach efforts and their mission supporting safe, legal and accessible abortion, contraception, and family planning. Erin received her undergraduate degree in Women, Gender, and Sexuality Studies from Oregon State University.
---
Denim Day 2017
CWLC participated in the 2017 Denim Day campaign in Santa Monica on April 26, 2017. The Denim Day Campaign was developed by Peace Over Violence 18 years ago after a rape case in Italy was overturned because the Chief Judge argued that the victim's jeans were too tight for the rapist to take them off without the victims' help or consent.
---