Dear Friends of CWLC:
The California Women's Law Center wishes you and yours a very happy holiday and a healthy and safe new year.
CWLC thanks you for supporting our mission because this year, and for the foreseeable future, your assistance will be more important than ever in our effort to break down barriers and advance the potential of women and girls through transformative litigation, policy advocacy, and education. Without a doubt, 2017 has been a challenging year for the most vulnerable among us, and unfortunately women and families continue to struggle in their fight for equal pay, fair treatment, health care, suitable housing and safe neighborhoods, as well as their ability to access justice when necessary.
This year, CWLC advanced our commitment to women's economic security and health, Title IX enforcement, and for the rights and needs of women veterans. We remain on the frontlines of the fight against gender discrimination and domestic violence and with your help, the California Women's Law Center will maintain our march toward equality and our pursuit of justice for women and girls.
Ensuring Equality in Schools 
CWLC continues to grow our expertise in Title IX enforcement at California schools and colleges. We advocate on behalf of students for equal opportunities and safety by providing trainings to students, educators, administrators and attorneys on athletics, campus sexual assault, teen pregnancy and breastfeeding accommodations.
This year, in conjunction with BreastfeedLA and the ACLU of Southern California, CWLC released an updated report on lactation accommodations noting which school districts in Los Angeles County have not provided adequate accommodations for lactating students and employees. In 2017, CWLC also released a report titled Lactation 101: Lactation Accommodations in Los Angeles County Higher Education which built on our prior work evaluating K-12 schools by expanding our focus to include an analysis of the breastfeeding and Title IX policies of over 100 institutes of higher learning in Los Angeles County.
CWLC recently held a Speaker Series on Women in Sports, where our esteemed panelists discussed the positive impacts the implementation of Title IX has had on female athletes. The panelists also highlighted the challenges women still face in sports in the U.S. and all over the world. CWLC remains committed to fighting for equality and ensuring female athletes are afforded the same opportunities and treatment as boys.
Economic Security, Empowering Women
CWLC remains committed to addressing the economic security and elder justice needs of California's aging population. With 34,000 people a month turning 65 in our state, the challenges facing our older population are vast and diverse. Because women on average are paid less than men for the same work, they are not able to save the amount of money they need for retirement which contributes to present and future economic insecurity. In addition, the time women take off to care for family members is not recognized in governmental assistance programs, including social security.
In June, CWLC sought to address the housing crisis in Los Angeles by establishing a free tenants' rights and housing clinic that partners with the Venice Housing Corporation in Venice, CA and meets the third Saturday of each month from 10:00 – 12:00 p.m. These clinics are staffed by housing attorneys to give free legal assistance to those in need. To date, we have assisted predominately lower income and older women and their families. The information learned at the clinics has led us to pursue impact litigation cases that will help ensure affordable housing remains available in the coastal areas.
At our Pursuit of Justice Awards lunch this year, CWLC honored two amazing organizations and one outstanding individual working to empower and strengthen women and girls in California. The Actors' Gang Prison Project was celebrated for their creation and success in building confidence and new paths for incarcerated people; Connie Leyva was acknowledged for her commitment to equality by advocating for women's rights, families and veterans; and the Los Angeles Sparks were honored for enriching our community by uplifting young girls and leading workshops to grow their confidence.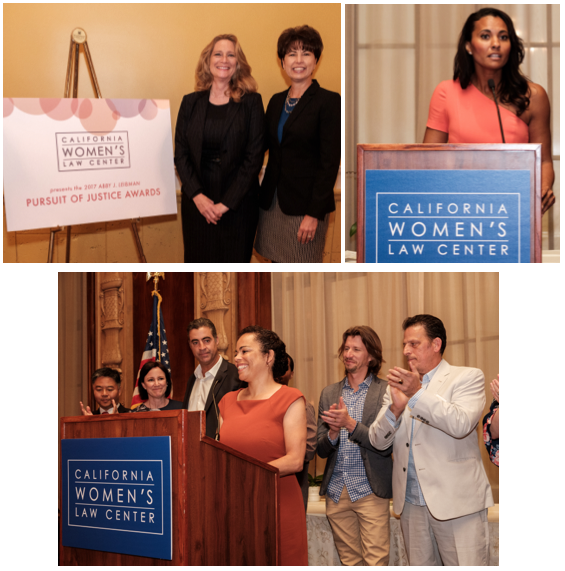 Highlights from our 2017 Pursuit of Justice Awards luncheon honoring the Actors' Gang Prison Project,
State Senator Connie Leyva and the Los Angeles Sparks.
Working to Stop Domestic Violence and Teach Healthy Relationships
Every year, CWLC participates in dozens of amicus briefs and we recently filed two briefs in the California Court of Appeal advocating for domestic violence victims. Both cases resulted in published victories on behalf of the survivors that will facilitate justice for other domestic violence victims.
CWLC also conducted trainings on teen dating violence and how it affects the lives of women and girls. Following the trainings, CWLC released the Teen Dating Violence in California Schools: Know Your Rights brochure which provides information relating to teen dating violence and promotes healthy relationships.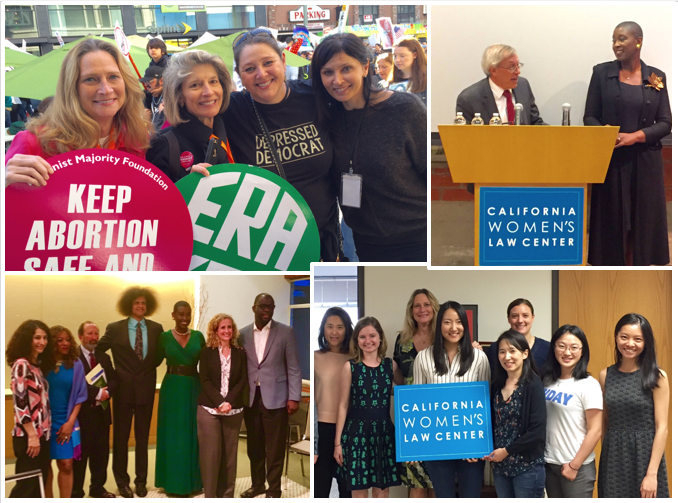 Thank you again for supporting the California Women's Law Center. In 2018, we hope you will continue to assist our effort breaking down barriers and advancing the potential of women and girls through transformative litigation, policy advocacy and education. We have much work to do and your support is more important than ever. By working together, our pursuit of justice for women and girls will be realized much faster and on a much broader scale.
Happy Holidays to you and yours from the
California Women's Law Center staff and Board of Directors.
In peace and with respect for all, we wish you a happy and healthy 2018!