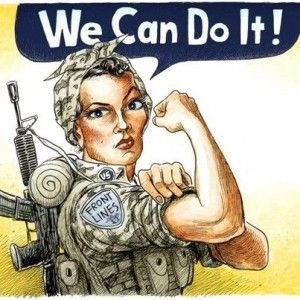 In recognition of Women's History Month, the California Women's Law Center (CWLC) recognizes leaders in the military and acknowledges their great sacrifice and achievement. Despite challenges, these women have soared in their service to our country. We are grateful for their brave and courageous leadership.
Here's to an inspiring Herstory Month!
---
Beatrice Cohen
(1910-2015)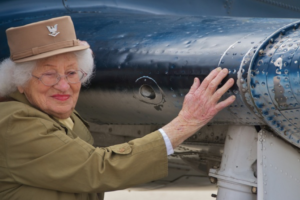 Beatrice Cohen was born in Romania and came to America at the age of 10 with her mom who was a widow and her 3 siblings. An immigrant who was grateful for America's accepting culture, Ms. Cohen joined the United States war effort as a way to give back to her adopted country. She started by trapping black widow spiders and sending them to USC, which collected the strong webs for use as crosshairs in submarine periscopes. She became a riveter at Douglas Aircraft Company in Los Angeles where she produced munitions and war supplies. But she wanted to do more, so she joined the Women's Army Auxiliary Corps (WAAC), which became the WAC in 1943. Stationed at Elveden Hall outside London, she mimeographed top-secret documents and worked kitchen patrol duty.
Ms. Cohen dedicated her life to serving veterans after retiring from the U.S. Army. Ms. Cohen returned to Los Angeles in 1945 and met her future husband, Ray Cohen, who was a marine returning from a Japanese prison camp. She got involved in local veteran support groups, became the chairwoman for child welfare for the Jewish War Veterans Auxiliary, and worked for 35 years with the United Cerebral Palsy/Spastic Children's Foundation.
Bea died in 2015 and was 105 years old. A champion of veterans, she spent over 70 years supporting U.S. military organizations and those who have served our country. She leaves behind a patriotic and inspiring legacy filled with service and compassion.
Linda Spoonster Schwartz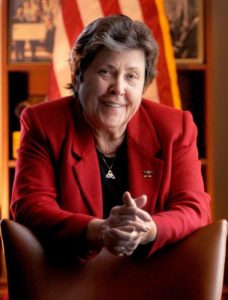 Dr. Linda Spoonster Schwartz is one of the nation's leading advocates for female veterans. In 1967, Ms. Schwartz began her career in service as an Air Force nurse and has continued to serve her country as an advocate and public servant since. She received her Master's from Yale School of Nursing and a Doctorate in Public Health from Yale School of Medicine.
Dr. Schwartz led legislative efforts to authorize the VA's "Center for Women Veterans" and has testified dozens of times on issues important to women veterans before both Houses of Congress. As Connecticut's Commissioner/Commandant of Veterans Affairs, she focused on improving programs for women veterans, homeless veterans, and mental health services for those who have served. She served as the Chair of the VA's Advisory Committee on Women Veterans and was appointed by President Barack Obama as his Assistant Secretary of Veteran Affairs for Policy and Planning, where she fought for veteran suicide prevention programs and addressed the needs of military sexual trauma survivors.
Dr. Schwartz is the first and only woman elected President of the National Association of State Directors of Veteran Affairs. She has served on the National Boards of the American Nurses Association, Vietnam Veterans of America, and the Vietnam Women's Memorial. Among her many honors are being inducted into the American Academy of Nursing and both the Ohio and Connecticut Veterans Hall of Fame. She also received the National Commendation Medal of Vietnam Veterans of America for "Justice, Integrity, and Meaningful Achievement."
Thank you Dr. Schwartz for your dedication to improving the lives of veterans across the country.
General Lori Robinson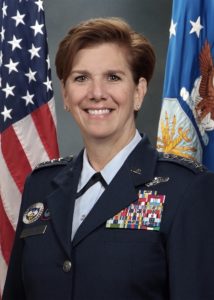 General Lori Robinson is the first female officer to command a major Unified Combatant Command in the history of the U.S. Armed Forces and she is the highest ranking female general in United States history.
General Robinson entered the Air Force in 1982 through the ROTC at the University of New Hampshire. She has served in various positions including Commander of Pacific Air Forces, Air Component Commander for United States Pacific Command, and as the Executive Director of the Pacific Air Combat Operations Staff at the Joint Base Pearl Harbor-Hickam, Hawaii.
She has been recognized with numerous awards and decorations including the Defense Meritorious Service Medal, the Meritorious Service Medal, and the Air Force Commendation Medal.
Currently serving as the Commander of the U.S. Northern Command and the Commander of the North American Aerospace Defense Command, General Robinson is responsible for defending the United States of America and is the top general overseeing military activities in North America.
We applaud General Robinson's service to our country. Her leadership is an inspiration to all.
Ruth Wong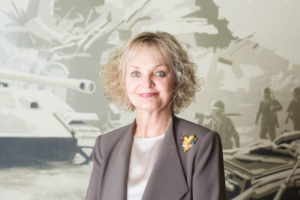 General Ruth Wong serves as the Director of the County of Los Angeles Department of Military and Veteran Affairs. Based at Bob Hope Patriotic Hall in Los Angeles, General Wong served in the U.S. Air Force as Assistant to the Air Force Surgeon General for Medical Readiness and Nursing Services as well as the Aeromedical Evacuation Flight Commander in the Persian Gulf.
One of the first nurse practitioner's in the Air Force, General Wong earned a Master of Public Health degree from the University of California, Los Angeles and an undergraduate degree from Occidental College. She received her nursing education at St. Mary's School of Nursing in Chicago and completed her nurse practitioner studies at the University of Virginia.
General Wong's major awards and decorations include the Distinguished Service Medal, the Legion of Merit, the Meritorious Service Medal, and the Kuwait Liberation Medal. She also received the Lt. General Charles H. Roadman, U.S. Air Force Surgeon General, and the Mirror Force award.
After retiring from the U.S. Air Force as a Brigadier General in 2001, General Wong became CEO of the Los Angeles County Department of Mental Health in 2002 and Director of Military and Veterans Affairs in 2013. She has dedicated her life after retiring from the U.S. Air Force to serving veterans.
Thank you, Ruth, for your hard work and commitment to better the lives of veterans.
---

"Women belong in all places where decisions are being made…
It shouldn't be that women are the exception."  
― Ruth Bader Ginsburg
Thank you for joining CWLC in celebration of the amazing women who have helped shape our country and the great state of California.
To learn more about Women's Herstory Month, and other women who have contributed to women's herstory, click here