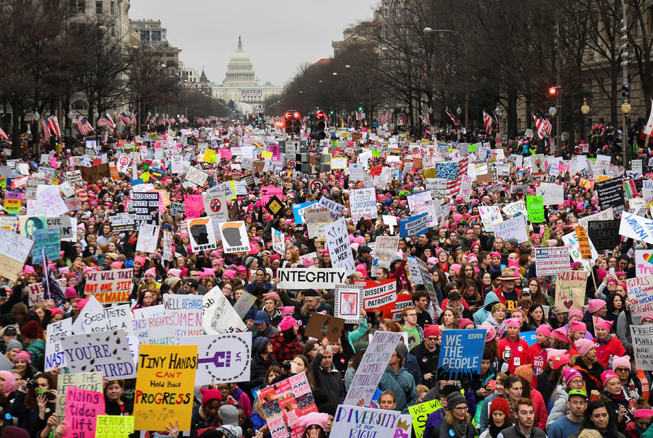 In observance of Women's History Month, this week the California Women's Law Center is proud to recognize leaders in public service. We celebrate their hard work and appreciate their dedication to strengthening and empowering our communities.
Here are more inspiring Herstories!
---
Terri McDonald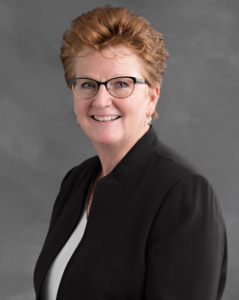 Terri McDonald is the Chief of the Los Angeles Probation Department, the biggest Probation Department in the nation. She has served the public for nearly four decades through her work in mental health treatment facilities, drug treatment centers, and in state and local correctional facilities. Her broad-based career in law enforcement began with the California Department of Corrections and Rehabilitation (CDCR), serving in various capacities and, ultimately, as the Undersecretary of Operations for CDCR. In this role she provided executive direction and operational oversight of the state's correctional system.
A former Assistant Los Angeles County Sheriff, Chief McDonald has a unique perspective and level of experience through her executive management of the State of California's parole, prison, and juvenile justice systems, the County of Los Angeles jail system, and most recently, the County of Los Angeles Probation Department. The Probation Department has more than 7,000 employees supervising over 38,000 adult and 7,000 juvenile probationers on any given day. Each of these systems are the largest of their kind in the nation, and she has been credited with successfully leading the implementation of the reform recommendations from the Citizens Commission on Jail Violence.
Chief McDonald possesses a Bachelor of Science Degree in Leadership in Law Enforcement from the University of San Francisco. She is an active member of several criminal justice associations and has served on a variety of non-profit boards.
Thank you, Chief McDonald, for your leadership in striving for better outcomes through investment in and reform of our corrections system.
Tammy Duckworth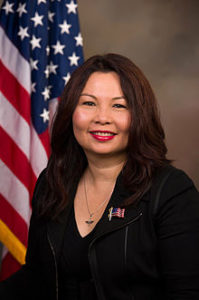 Born in Bangkok, Thailand, the Honorable Tammy Duckworth became the first disabled woman to serve in the U.S. House of Representatives and the second Asian-American woman in the U.S. Senate.
In 2004, U.S. Army Lieutenant Colonel Duckworth was on a mission in Iraq where she was involved in a helicopter accident that resulted in the loss of her legs. A Purple Heart recipient, Senator Duckworth then served as the Director of the Illinois Department of Veterans' Affairs, as an Assistant Secretary in the United States Department of Veteran Affairs, and as a Congresswoman representing Illinois' 8th District. Now a U.S. Senator representing Illinois, her main priorities are advocating for working families, women and veterans.
Senator Duckworth is giving birth to her second child in late April, making her the first sitting U.S. Senator to give birth. Concerned about the Senate's lack of accommodations for new parents and especially nursing mothers, Senator Duckworth is working with Democratic leaders to improve breastfeeding accommodations in The Capitol and to change current Senate policy forbidding children on the floor for this purpose.
Thank you, Senator Duckworth, for your sacrifice and service to this country, and your tenacity on behalf of breastfeeding mothers.
Shirley Chisholm
(1924-2005)

"In the end, anti-black, anti-female, and all forms of discrimination are equivalent to the same thing–anti-humanism."
-Shirley Chisholm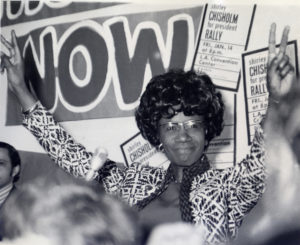 The first black woman elected to Congress in 1968, Shirley Chisholm served as New York's 12th Congressional District member for fourteen years. She was also the first African American and the second woman to run for U.S. President in 1972.
Congresswoman Chisholm received her master's degree from Columbia University in elementary education and served as a consultant to the New York City Bureau of Child Welfare before being elected to the New York State Assembly. As a member of Congress, she was one of the thirteen founding members of the Congressional Black Caucus and a vocal critic of the amount of money being spent in the defense budget while many Americans were hungry, poorly educated, and without adequate housing. She was also a strong advocate for women's rights, and took a stand early in her career supporting a woman's right to choose. After retiring from Congress in 1983, she taught politics and women's studies at Mount Holyoke College and co-founded the National Political Congress of Black Women.
Thank you, Congresswoman, for your commitment to ensuring a good education is accessible to all and for being a leader of the social justice movement.
Erin Regan

"Firefighting is a calling. It shouldn't be limited to a person's gender… I'll never become rich doing this. I'm serving people and maybe saving lives."
-Erin Regan
Los Angeles County Firefighter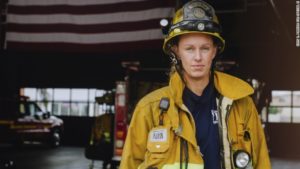 Inspired by her grandmother who was the first female police officer in her department, Erin Regan is one of 38 female firefighters among the 4,000 firefighters with the County of Los Angeles Fire Department. Of the 1.1 million firefighters in the United States, the National Fire Protection Association notes only 7% are women. Ms. Regan intends to change that.
In 2015, Ms. Regan and her female colleagues started "Girls Fire Camp" to encourage young women to join their profession. This one-day educational event for girls led to the launch of an eight-week recruiting program called the "Women's Fire Prep Academy" which prepares young women to become firefighters.
Ms. Regan has been with the Los Angeles County Fire Department for ten years. Thank you, Ms. Regan, for continuing to inspire young women through your leadership and the programs you have helped establish to ensure more women join the ranks.
Lucy Killea
(1922-2017)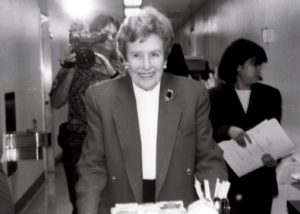 Beginning with her work at the CIA and as part of Eleanor Roosevelt's staff at the first United Nations General Assembly in 1946, to her early support of San Diego's trolley and downtown redevelopment, Lucy Killea forged her own path in a political world largely dominated by men.
Senator Killea received a Doctorate in history from the University of California, San Diego, and served on the San Diego City Council. In 1982, she was 60 years old when she was elected to the Assembly–the 29th woman to serve in the California Legislature. She spent fourteen years in the California State Assembly and Senate, retiring from public office in 1996. Fluent in Spanish, she was known for her decades-long push to improve cross-border relations with Mexico.
Senator Killea was committed to many important causes, and advocating for women was paramount. One example of her commitment to women's rights came during her State Senate campaign in 1989 when the Bishop of the San Diego Roman Catholic Diocese, Leo T. Maher, denied then-Assemblywoman Killea from receiving Communion because she was pro-choice. Ultimately, the local and national attention this situation brought to Lucy's race got her elected to the California Senate.
Senator Killea died in 2017 at the age of 94. We thank Senator Killea for being a real trailblazer, empowering women in her community, and for being a tenacious advocate for women's rights.
---
"There is no limit to what we, as women, can accomplish."
-Michelle Obama

Thank you for joining CWLC in celebration of the amazing women who have helped shape our country and the great state of California.
To learn more about Women's Herstory Month, and other women who have contributed to women's herstory, click here.