Today we recognize National Equal Pay Day. The 10th of April represents how far into 2018 women on average must work to make what men did in 2017.
In 2017, women on average were paid 80 cents of what men were paid. The wage gap is even wider for women of color. As shown below, African American women, Native women and Latinas must work a significant portion of the new year before they reach pay equity with men.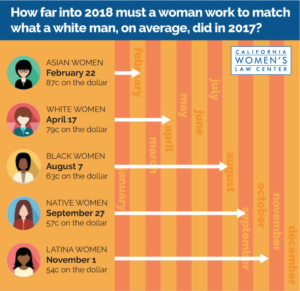 Combined, California women who work full time lose a total of more than $78.6 billion every year due to the wage gap. Hispanic women stand to lose the most: It is estimated that California Latinas lose at least $1.5 million over their lifetime. Unequal pay not only hurts women, but their families and the economy also suffer as a result of their lost wages.
The California Women's Law Center is dedicated to the fight to end practices contributing to the gender wage gap. CWLC recognizes Equal Pay Days to increase awareness about pay inequity and the compounding effects it has on the lives of women. To learn more about 2018 Equal Pay Days, click here: http://www.equalpaytoday.org/equal-pay-day-2018