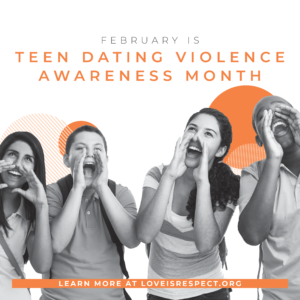 February is Teen Dating Violence Awareness Month, a time for advocates to join together to raise awareness about teen dating violence, highlight efforts to combat this violence and encourage others to get involved.
Each year, approximately 1.5 million high school students nationwide are victims of abuse from a dating partner, which means 1 in 3 adolescents in the U.S. will experience physical, sexual, or emotional abuse during a relationship.
Teen dating violence (TDV) is defined as a pattern of abusive behaviors that can be verbal, emotional, physical, sexual, economic or digital in nature. Unfortunately, TDV is extremely common and occurs in every community and across all geographic, cultural, racial and socioeconomic lines. Because there is a lack of awareness about this type of violence, the majority of teens and college students have difficulty identifying it, and the majority of parents believe teen dating violence is not an issue or are not aware it is happening. This issue has serious long-lasting effects, including increasing victims' risk for substance abuse, eating disorders, risky sexual behavior, additional domestic violence, and suicide.
In 2017, CWLC released Teen Dating Violence in California Schools: Know Your Rights, a brochure providing information about TDV, schools' responsibilities regarding TDV and bullying, and the legal remedies available to tackle this widespread problem. This year, CWLC is working with Los Angeles County school districts to implement programs to educate and train administrators, staff, parents, and students on what TDV is and how to prevent it.
The California Women's Law Center recognizes the importance of healthy and safe relationships. Thanks to supporters like you, we are able to continue our work ensuring California schools provide safe environments for our children by creating awareness about teen dating and peer violence. Learn more about TDV by clicking here.