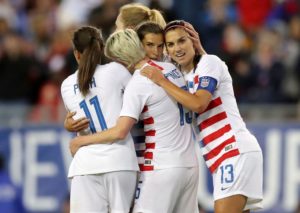 We are proud to share that a team at Winston & Strawn, including the Co-President of the CWLC Board of Directors, Diana Hughes Leiden, is leading the charge for equitable pay on behalf of the U.S. women's national soccer team. The women's team has endured years of gender discrimination despite their incredible success on playing fields around the world.  
CWLC thanks our colleague Diana and Winston & Strawn for their commitment to ensuring fairness and equality for female athletes.  By standing up and fighting for equity, the courage our soccer players have demonstrated will benefit women and girls everywhere.
Learn more about the case by clicking here.
Read the complaint by clicking here.