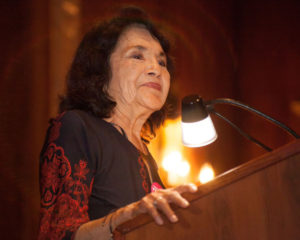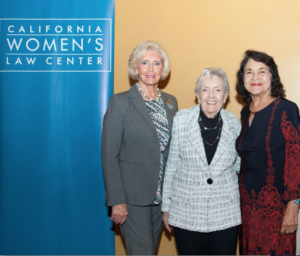 CWLC is proud to recognize Dolores Huerta Day, celebrating Ms. Huerta's 89th birthday!
A lifelong advocate for social justice and equality on behalf of workers, immigrants, women and youth, Ms. Huerta emerged as an organizer and civil rights leader at an early age, launching the National Farm Workers Association with Cesar Chavez in 1962. As the association's main legislative advocate, she was instrumental in landmark victories including securing aid to families with dependent children and disability insurance for California farm workers in 1963, as well as enacting the Agricultural Labor Relations Act of 1975 which granted California farm workers the right to collectively organize and bargain for better wages and working conditions.
In 2002, Ms. Huerta established the Dolores Huerta Foundation with funding she received from The Puffin/Nation Prize for Creative Citizenship which forms neighborhood organizations in rural communities in California's Central Valley. Ms. Huerta also travels the country speaking to students and organizations about social justice and public policy. She has encouraged Latinas to run for office and influenced thousands of young people to serve their communities.
Dolores Huerta has received numerous awards and accolades. She was the first Latina inducted into the National Women's Hall of Fame, she received the Eleanor D. Roosevelt Human Rights Award from President Bill Clinton in 1998 and, in 2012, President Barack Obama honored Ms. Huerta with the prestigious Presidential Medal of Freedom, the highest civilian award in the United States.
CWLC was honored to be able to recognize Dolores Huerta at our 2015 Pursuit of Justice Awards lunch. We thank you, Ms. Huerta, for your leadership and unwavering, ongoing and lifelong support of equality and civil rights for all.