Today marks the 56th anniversary of the passage of the Equal Pay Act, which was signed into law by President John F. Kennedy in 1963. The Equal Pay Act sought to combat pay discrimination based on gender in the United States, acknowledging that gender discrimination is detrimental to our workforce and the economy.
While the Equal Pay Act marked a significant moment in women's history, the gender pay gap remains 56 years later. In 2019, the average woman working full-time makes just 80 percent of what her male counterpart earns. The gender wage gap exists across all occupations and industries and is even wider for women of color. Recent studies indicate that the wage gap is even worse than previous calculations. This study found that in the last 15 years, working women earned just 49 percent of what working men earned. Among other factors, this study evaluated the rates at which women enter and exit the workforce. It found that women are much more likely than men to leave the workforce due to having children or caring for ill relatives, and that there are significant disparities in pay when women reenter the workforce when compared to men in similar situations.
In 2017, California women lost more than $78.6 billion a year due to the gender wage gap, taking a huge toll on women, their families, and the economy. Latinas in California are among those that suffer the most from the gender wage gap: in 2018, Latinas earned only 55 cents per dollar that a man earned.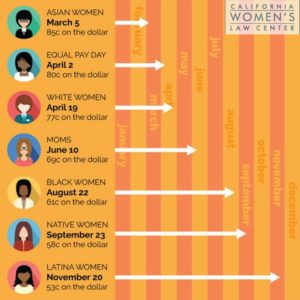 Today is also Mom's Equal Pay Day, marking how far into 2019 moms must work to earn what dads earned in 2018. On average, full-time working mothers earn 69 cents for every dollar a dad earns, and mothers of color make as little as 46 cents for every dollar a white, non-Hispanic dad makes. Moms are the primary breadwinners in half of all households in the United States. The wage gap makes it increasingly more difficult for families to afford child care, rent, food, and traps families in a cycle of poverty.
CWLC is proud to be a part of the national effort to eliminate the gender pay gap, but unfortunately our work is not done. We continually work to improve women's economic security through education, policy advocacy, and impact litigation. We hope you will consider supporting CWLC in our fight to close the wage gap – donate here to join the fight!