CWLC breaks down barriers and advances the potential of women and girls through transformative litigation, policy advocacy, and education.
NEWS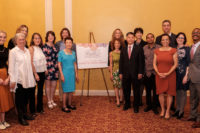 2017 Pursuit of Justice Awards
May 16, 2017
Insightful Speaker Series with Erwin Chemerinsky and Michele Goodwin
February 23, 2017
TRAININGS/CLINICS
Free Legal Housing Clinic
Every third Saturday of every month.
CWLC hosts monthly free legal housing clinics for residents of the beach cities every third Saturday of the month from 10am-12pm at Venice Community Housing Corporation. The clinic is open to all beach city residents facing eviction or other legal issues related to their housing. 
GET EDUCATED